Pollaris 4
Astronomical Information
Galaxy

Unknown as of yet

Solar System

Pollaris

Sun(s)

1: Pollaris Central

Moon(s)

2 Natural moons:

Year length

750 days (split into 15 months of 50 days)

Day length

24 hours

Physical Information
Class

Terrestrial (As of 5AS)

Diameter (km)

11,300km

Atmosphere

Breathable

Climate

Moderate, Controlled

Gravity (x Earth)

0.999 x Earth's

Terrain %s

3% Mountains
35% Plains/Hills
5% River
32% Sea
6% Ice
19% Forests

Water

43%:

Places of interest

Lots?

Species

Lots

Immigrated species

None

Affiliation Information
Main Language

Galactic Basic Standard
Ehflo Standard
Grettish Standard

Main government(s)

See the nations section

Major imports

None

Major exports

None

Affiliation

Refer to Governments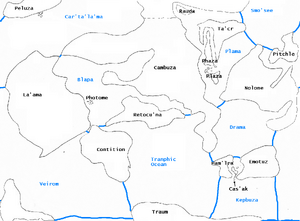 Pollaris 4 was the planet on which this wikia is set on. It consists of many nations dating back to 1AS. Surface area: 6,652,597,504km
There are sevral different calendars on Pollaris 4, however, the most common is the Ehfloan. It uses a solar system, whereby a year is 1 orbit of the sun and a day is a cycle of the planet.
The Calendar works in months and days. Each month possesses 50 days (starting from 1 and ending on 50), and there are 15 months. E.g.:
1'10/Artus 10th would be the 10th day of the first month.

Years are displayed as BS, and AS. Meaning Before and After Settlement, when the first civilizations were formed/orginized/settled. (1AS).
Months were named a few days after the Ehfloan calendar was set. There are 15 months
Artus
Calar
Polochin
Cathu
Jarcatacus
Olochin
Yu-yu
Reasfa
Ionus
Ceasus
Yolarckus
Yobruabs
Baeotlrefa
Brasmif
Oloptussa